Over the past few weeks I've been covering my first six months of ownership of my NB Miata. I covered buying the car, performance and cosmetic modifications I have done, along with problems I've encountered with my car.
One of the reasons why I purchased my Miata was so that I could enjoy it. I didn't just want something I could tinker with in a garage, I wanted something I could use. During my first six months of ownership I had a lot of fun experiences with my Miata that I'm going to cover in this post. These experiences include things like car shows, as well as track days and autocross.
Car shows
I brought my Miata to a bunch of car shows over the summer. For the most part these were the more car meet type of shows where you just show up with your cool car. This section covers some of the car meets and shows I took my Miata to over the summer, they are in no particular order. At some point I'll be posting links to albums with pictures of other cars at these shows.
Supercar Saturday (Omaha, NE)
This is a monthly car meet in Omaha. While the name suggests it's only for supercars, you can bring anything. There's actually typically a very diverse collection of cars there (both old and new), supercars, muscle cars, imports, and more. I went to this a few times this year. The first photo was in April when my Miata was silver. The second picture was taken in August once my Miata was wrapped yellow.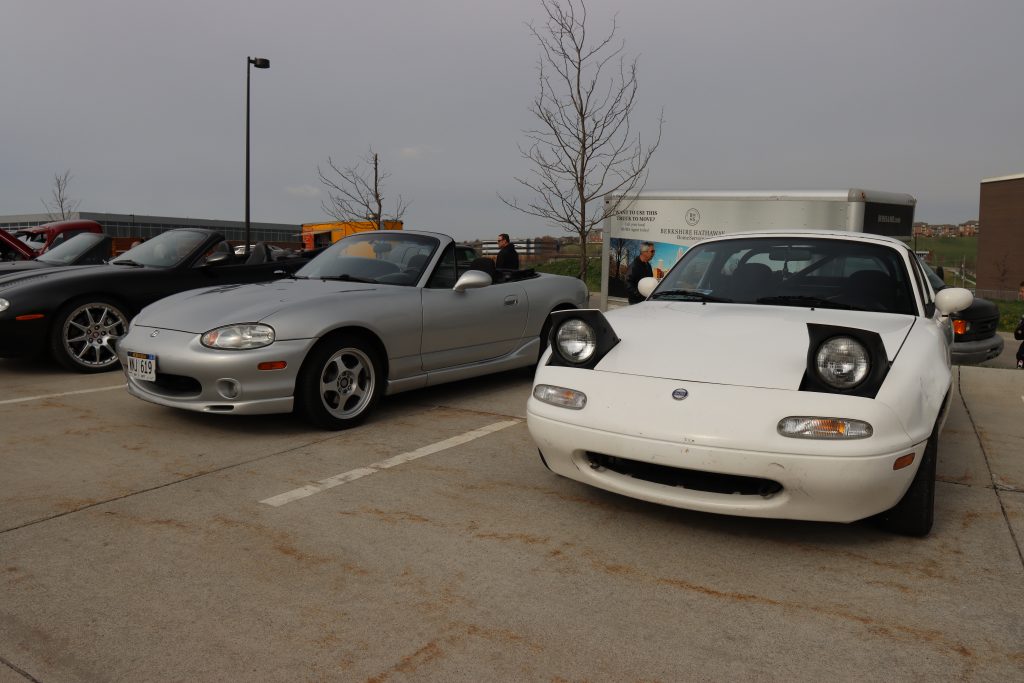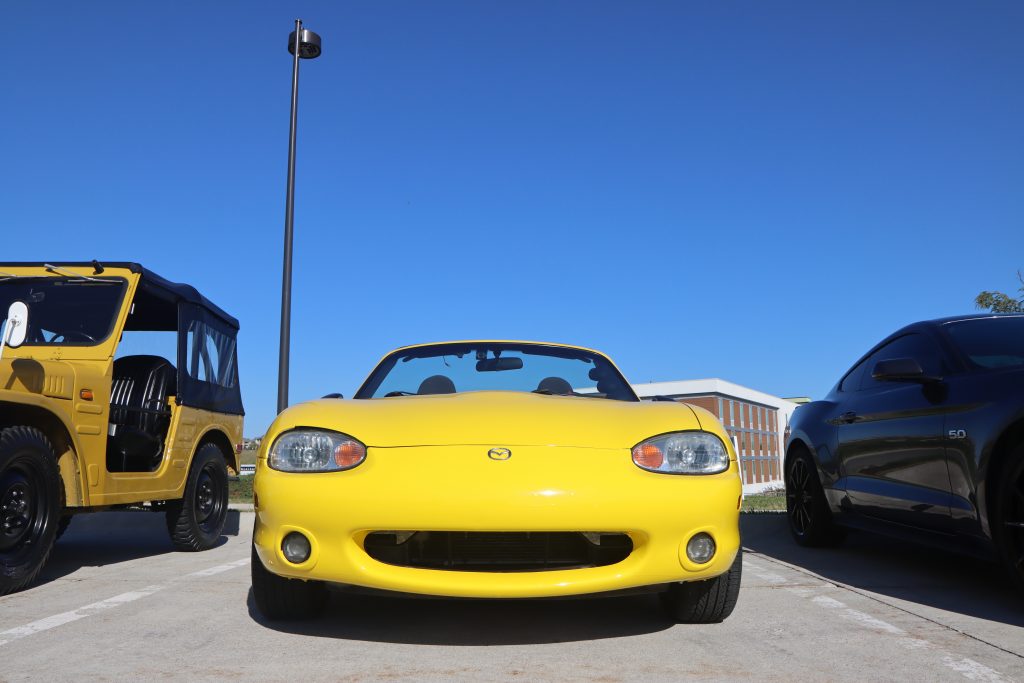 Enchiladas and Miatas (Omaha, NE)
These are monthly car meets for Miata owners in Omaha, NE and the surrounding area. They are held in different locations from month to month. I attended one in Omaha, and one in Lincoln and was able to see all of the other Miatas in the area. Another silver to yellow transformation set of pictures.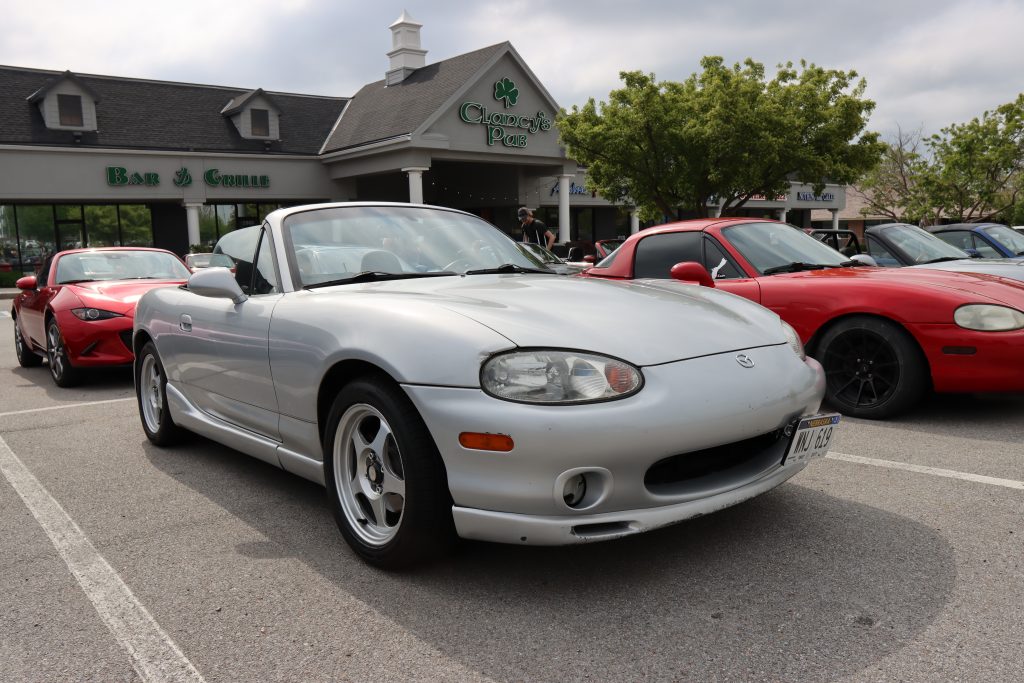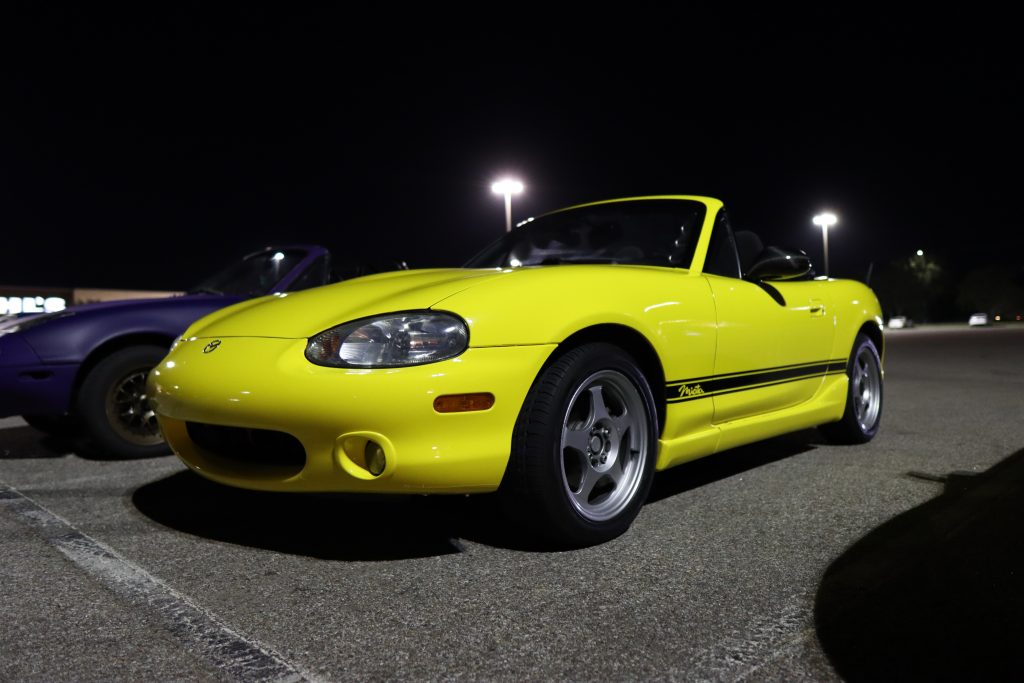 Fast & Hungry Car Show (Omaha, NE)
This was a new car meet in Omaha that was held by someone in the Miata group so I went ahead and attended. There were a lot of Miatas there along with a variety of other cool cars. I like this picture because it shows my yellow Miata with an NB in the background that looks like my car when I bought it.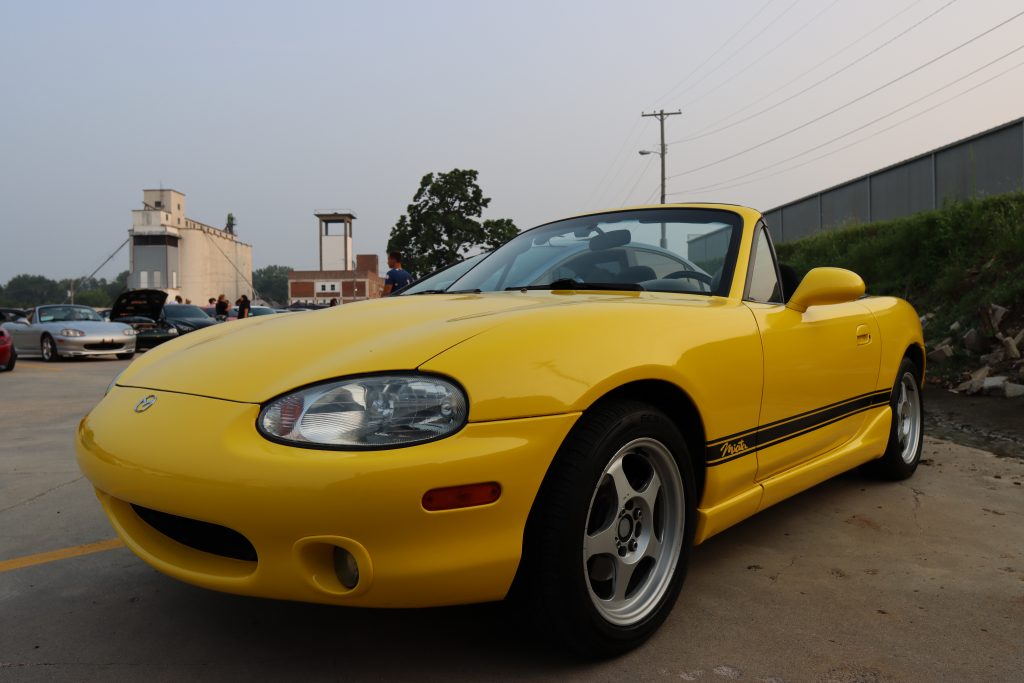 Speedway Motors Cars & Coffee (Lincoln, NE)
This is a monthly car meet in Lincoln. They cancelled all of these last year, and cancelled most of them this year. I was able to attend one of these this year with my Miata. These meets are typically mostly muscle cars and other old American cars.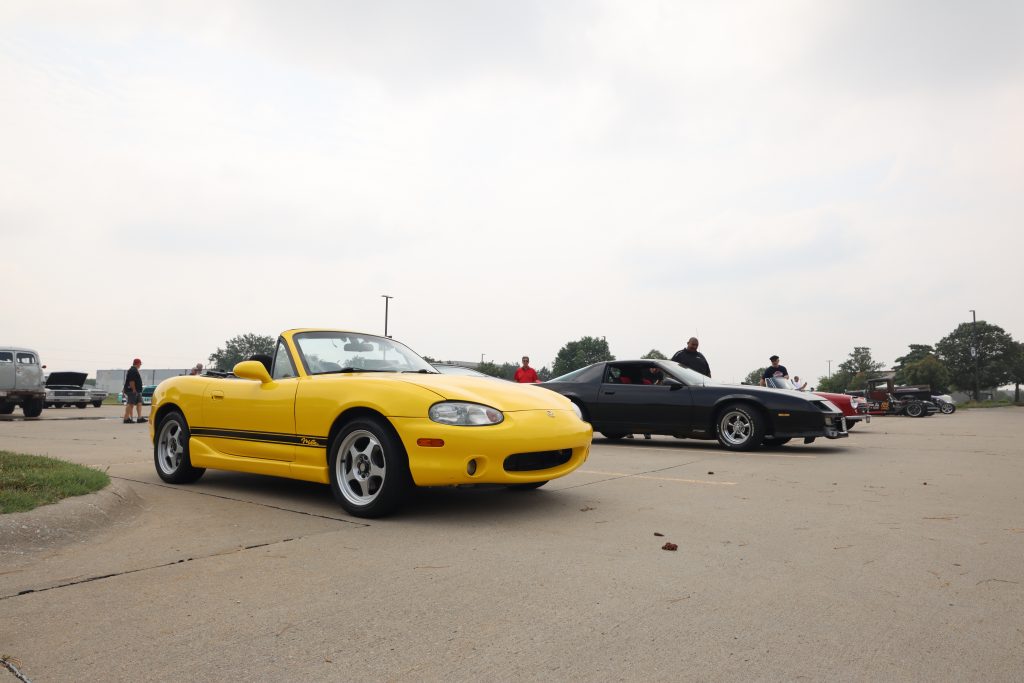 Ice Cream Cruise (Pacific Junction, IA)
This is an annual car show held at Raceway Park of the Midlands in Pacific Junction, IA. It's the biggest car show anywhere near here. Hundreds and maybe even thousands of cars line up along both sides of the 2.23 mile long race track. There is a huge variety of cars from all over that show up, a little bit of everything. This is an actual judged show, but I left before the judging happened.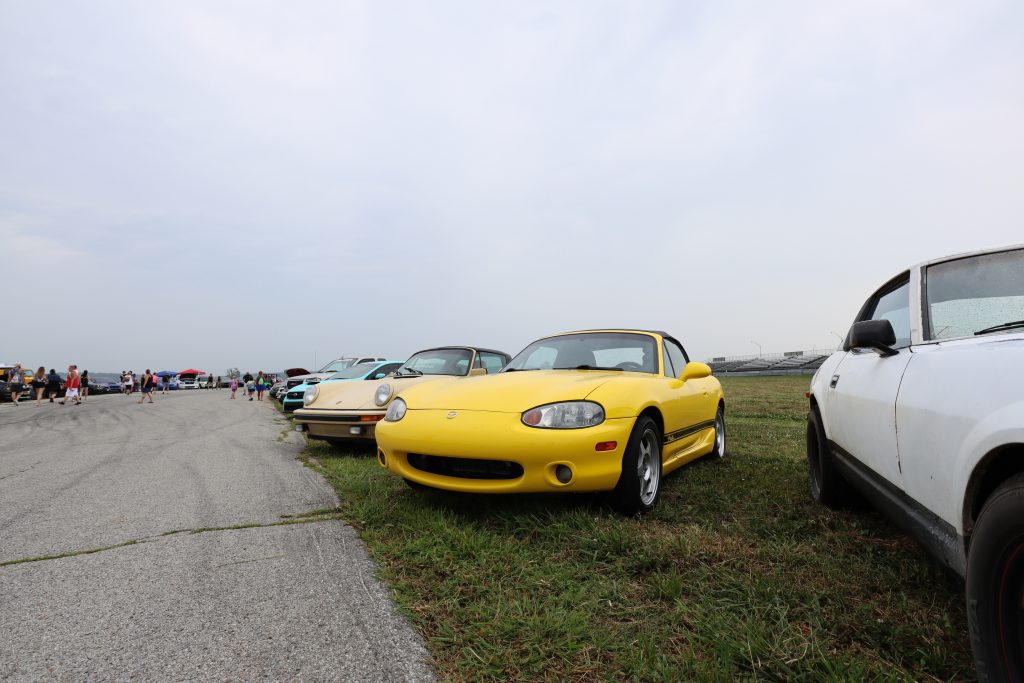 Rides & Coffee (Lincoln, NE)
This was a new car meet held at a new auto detailing supply store in Lincoln. I thought I'd go there and see what other cool cars showed up. It was mostly newer American cars, but there some other unique cars I don't see too often. I believe they'll be holding these monthly during the summer.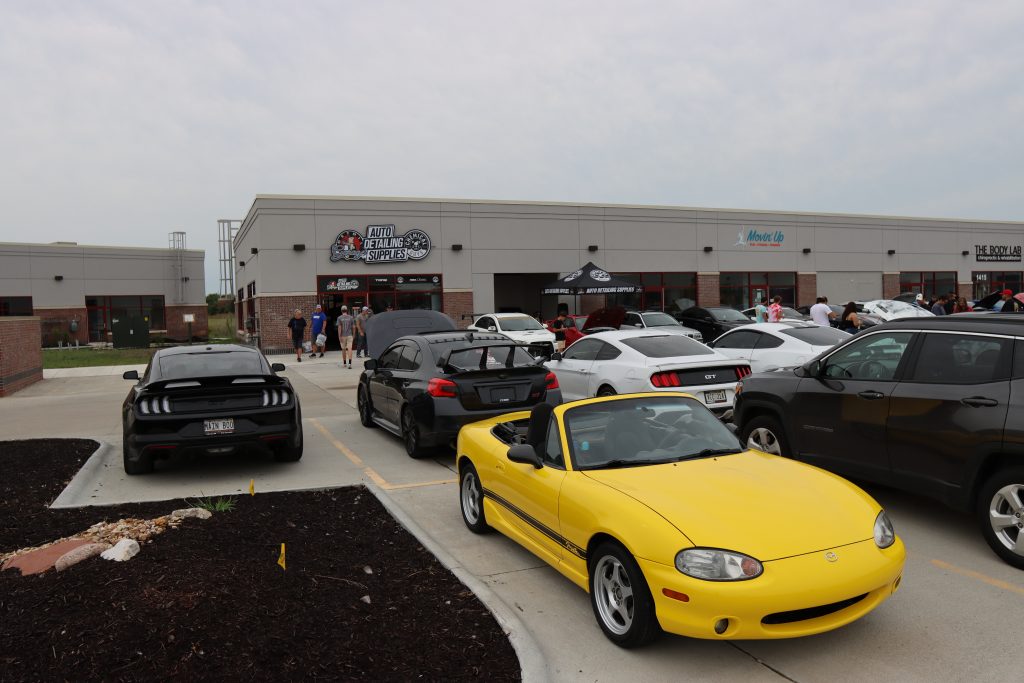 All Makes Auto & Truck Show (Lincoln, NE)
This is another judged car show, this time in Lincoln. It's an annual car show I hadn't ever been to before. It was organized by a Mustang car group so naturally there were a ton of Mustangs. It was mostly muscle cars and older American cars, but there were a couple other Miatas as well as some other imports. I ended up winning second in my class (Sports & Foreign 80-Current).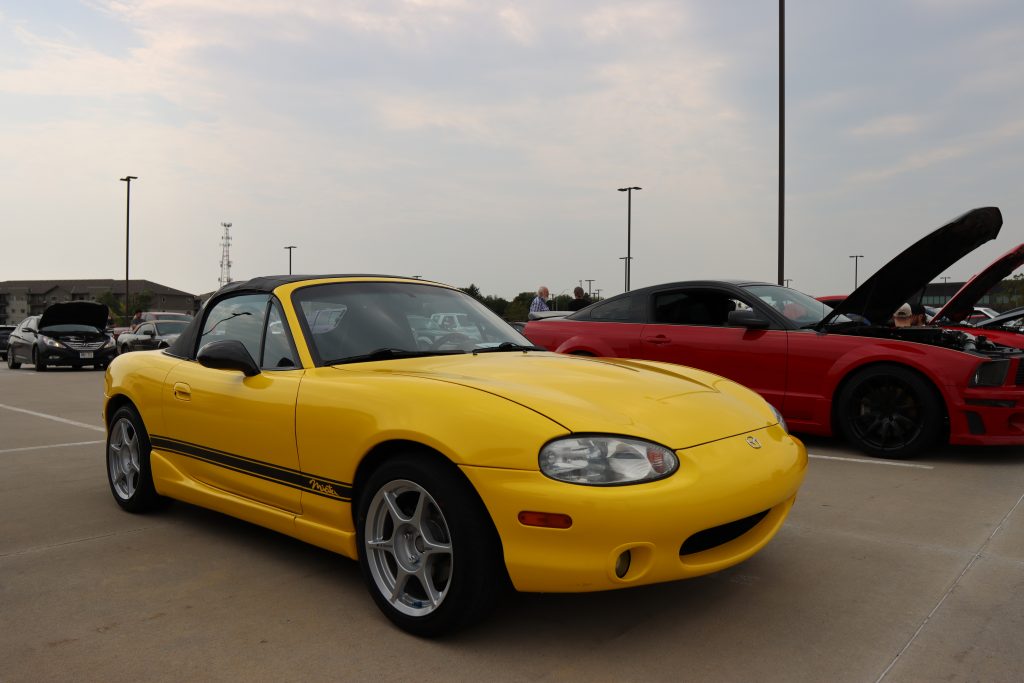 Track days
After purchasing the Miata my goal was to at some point drive it on a race track. I just didn't know when I was going to do it. I primarily wanted to make sure that my car was reliable and dependable before driving it super hard on a track. Baselining my car was one step in that direction. Once I installed the additional gauges to monitor things like temperatures I knew I was ready.
I signed up for some high performance driver education (HPDE) events at the nearest road course, Raceway Park of the Midlands. I had summer tires, and the weather for the days were great (early September, and early October). Obviously I was a little nervous going into the first day, and didn't fully know what to expect. I could end the day never wanting to go back, or love it and want to sign up for the next track day. Turns out driving my Miata on the track is just about the most fun you can have with the car.
Raceway Park of the Midlands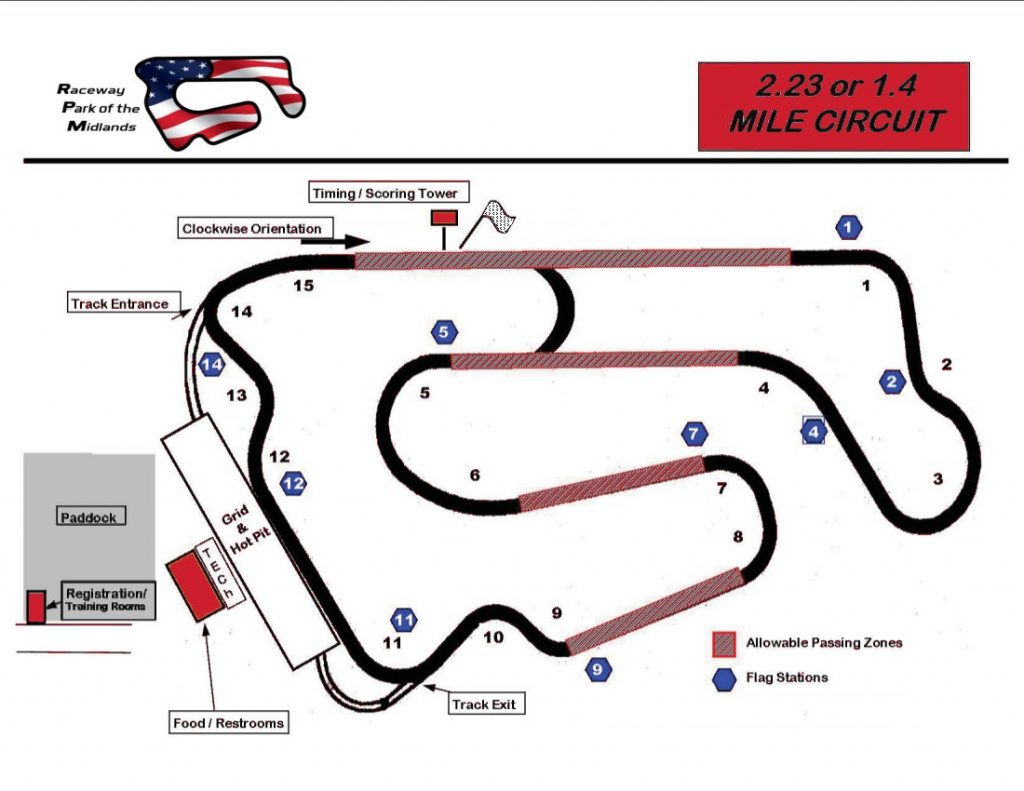 The nearest race track to where I live is Raceway Park of the Midlands (RPM) in Pacific Junction, IA. It's about an hour away. There are a couple of other tracks farther away (2 hours and 3 hours) that I may try in the future, but due to the proximity I'll probably be mainly driving at RPM.
One of the things I really like about Raceway Park of the Midlands is that it's a fairly open and safe track. There aren't really any walls (with the exception of some guard rails on some of the outer straights), and the runoff is pretty much all flat grass. So if I did lose control, and go off of the track, I probably wouldn't end up being injured or damage my car. This really made me feel more at ease. There were a couple of moments where First time out I did briefly reach the limits of my car, but I was able to quickly correct it without going off track or spinning or anything. During my second track day I did go off the track without any damage.
First track day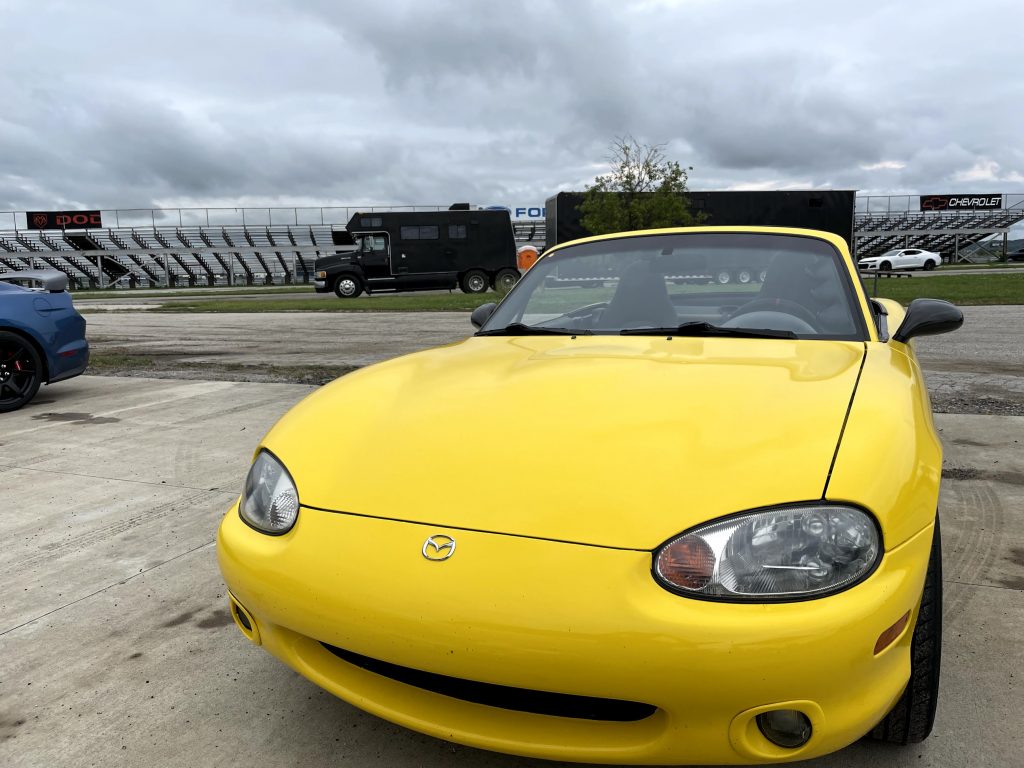 The morning started off with vehicle inspections and signing waiver. Then a driver's meeting, followed by a class where beginners were taught useful information like what all of the flags meant. Each hour was split into three 20-minute sessions, based on skill level. For the morning beginner sessions you were on the track with an instructor in the passenger seat giving you tips on how to improve, and guiding you through the course if needed. In the afternoon you are all on your own, and are considered a certified driver.
Being able to drive my Miata on a track was incredible. All of a sudden a car that is slow on the street comes alive and genuinely feels fast. Of course it isn't going to be fast on the straights, but in every corner you can turn at the same speeds (if not faster) than much faster cars. The particular track I was at had a lot of varied turns that I was able to improve at each lap. It was so much fun being able to drive as fast as I could, feel the balance of the car, and how different inputs feel when driving hard.
It's difficult to describe how much fun it really is. I've always liked racing video games, and have enjoyed simulator racing games with a wheel. Games are fun, but actually driving a car on the track brings it to a whole new level. It's real, and there are just so many more feelings just that don't come through a simulator setup. Hard braking at high speeds, the feeling of unwinding a steering wheel coming out of a turn, and the forces you feel driving are all just a few of the aspects that really don't come through very well with a simulator.
Upgrades in between track days
My car was fine during the first track day, but I did want to make some small improvements. I started off with the brakes, since my comfortable quiet street pads didn't really hold up all that well to the track (and required a lot of effort to lock the wheels up). Here's what I did to improve the brakes:
StopTech Sport Pads, they seem to be a good balance for both road and track use. They handle high temperatures better and can lock up the wheels much more easily.
Stainless steel braided brake lines. I don't remember why I didn't install these to begin with, I put on some new rubber hoses. These seem to make the brakes feel more responsive, but it could just be that I bled the brakes a little better than last time.
Wilwood adjustable rear brake proportioning valve. These allow me to have slightly more rear brake pressure to be able to brake harder.
Remanufactured brake calipers. Since I had to completely bleed the brakes anyways due to the other changes, so I might as well replace the calipers. I didn't want to risk a caliper leaking or seizing on the track.
Bracing was another focus that I have had with my Miata. I installed Flyin Miata Frame Rails + Butterfly Brace and a Cobalt rear shock tower brace. While I don't believe these made a difference on the track, it's possible they did. The frame rails definitely do make the car feel much more solid and modern going over bumps on the street.
Finally, I installed an upgraded SuperMiata crossflow radiator. I wanted to see what kind of impact this would have on my oil temperatures. It didn't seem to help, but I was driving my car much harder on the second day.
Second track day
A month after my first track day I was ready for my second. This was technically during my 7th month of ownership (along with the upgrades listed above), but I'm including this anyways. After completing my first track day I was more comfortable with my Miata, and was ready to push it harder. I wanted to improve my lap times as much as possible. During the first track day my best lap times were in the 2:15 range (I wasn't timing all of my laps though, only the ones with a GoPro in the car).
This time around I installed a Garmin Catalyst and was ready to record all of my laps. In the end I really did improve a lot. Pretty much all of my laps were faster than my fastest laps the first time out. Even my warm up and cool down laps seemed faster. During my third session, on my fourth lap, I set my fastest time, a 2:04.10. I wasn't able to improve from that, but was consistently able to get laps in the 2:05 range, which is a pretty good improvement.
I still have a lot I can improve at. One of the big areas that I need to improve on is heel-toe downshifting and keeping my car at a more optimal rpm. I was able to get more shifting in during my second day, but still need to get better. There's also improvement to be had in most of the turns when it comes to corner entry and exit. I think a lot of it comes down to better blending the brake/steering inputs deeper into the turns, and gas/steering coming out of the turns. It's sort of a balancing act to get the most out of the car.
Takeaways
One of my big takeaways from the track days was that doing performance modifications may not always make the most sense. There's still a ton of additional speed I can get out of my car in its current state. Installing something like a turbo kit probably isn't going to make me all that much faster, and is going to most likely result in a less reliable track car. Spending that money on different mods, and more importantly track time is really the better way to go. In a future post I'll be covering my future plans for the car.
I plan on spending more time at the track next year, and spending some time reading and learning about high performance driving so that I can get the most out of my fairly stock car. I'd also really like to go to other tracks just to experience what the differences are. There are a couple of tracks that aren't too far away and I'd like to go to at least one of them next year. I bought a roll bar that I'll be installing when it arrives, which should allow me to go to more track events with more strict rules.
If you have a car and have any interest in driving it on the track I'd recommend doing it at least once. You don't need to have a purpose built race car to drive on the track, just something that isn't unsafe to drive. There was a big variety of cars at each track day.
Autocross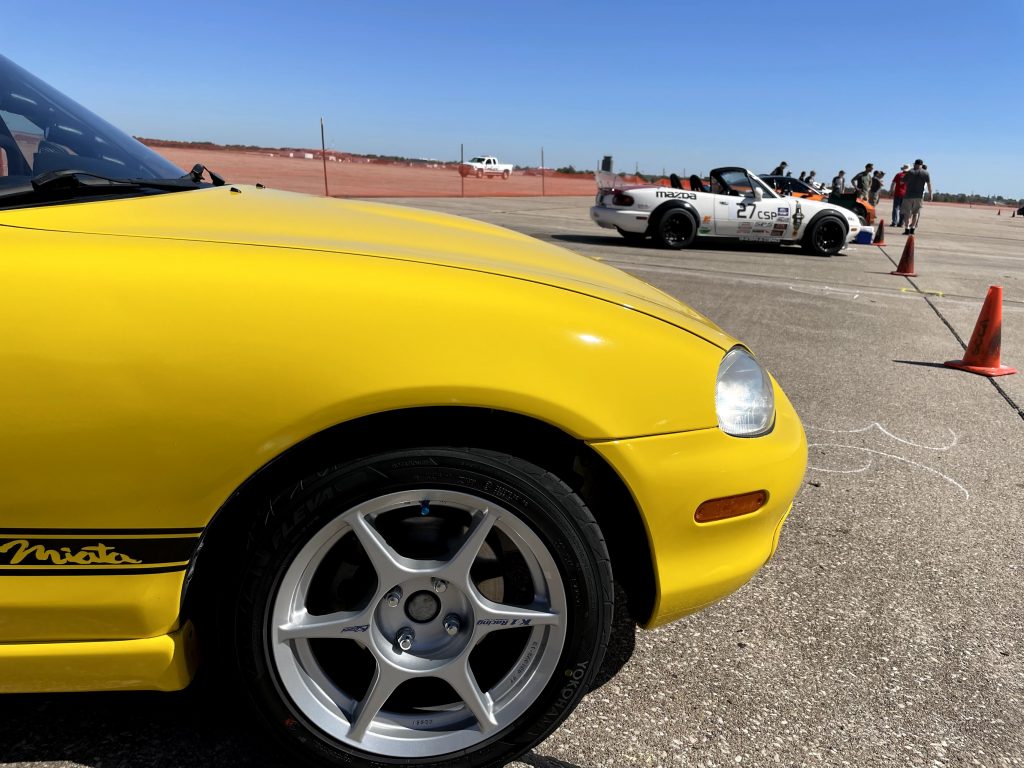 Another type of high performance driving you can cheaply do with your car is autocross. I'm lucky enough to live in the same city where SCCA autocross events are held for my region, Lincoln, NE. I attended my first autocross event in late September, a few weeks after my first track day.
I found it interesting how much different autocross and track days are. They both are fun, and I'm not sure which I prefer at this time. Autocross is a type of timed racing where you drive on a temporary course in a parking lot setup using cones. The courses are short, are at a relatively low speed, and change from event to event. At my event I only had four runs, so it was less about perfecting the course over time, and more about learning how to approach autocross courses in general and get up to speed quickly.
The low speed nature of the course combined with nothing to hit (other than cones) allowed me to really push the car harder than I would at the track. I had to drive fast and I had to get up to speed on the layout quickly. It really is fun to drive as fast as you can swerving around cones hearing your tires squeal over the course of the minute long run. There is absolutely no time to do anything other than drive, unlike on the track where you have the straights to think and check on things like gauges.
I didn't end up being particularly fast compared to the rest of the drivers, but wasn't the absolute slowest.
Takeaways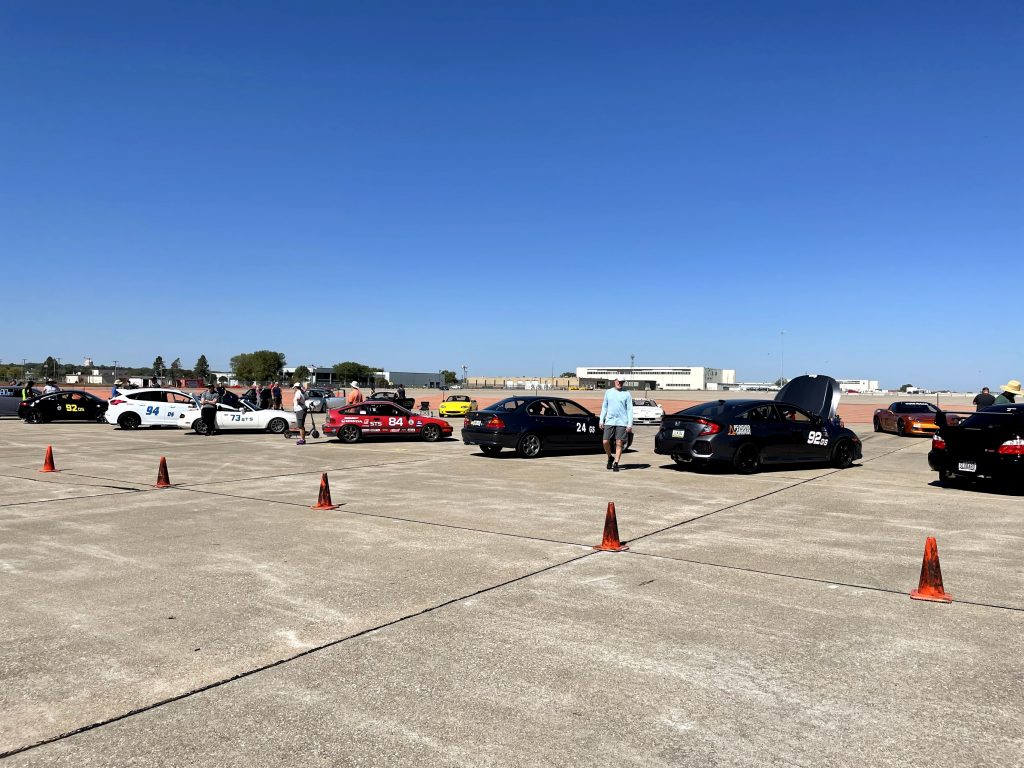 I look forward to going to more autocross events to see how I can get better at the sport over time. Being nearby really makes it easy to attend these, although having to stand up picking up cones for half the day isn't the most fun. I'll most likely be attending another one in October, and then some more in 2022.
One of the more annoying things about SCCA autocross is how they do classing. Cars fall into classes based on things like their factory performance class, and the modifications done to the car. Obviously this makes sense in order to make things more competitive, it allows cars to be at a more even playing field.
The problem is that these classes are extremely strict, and mods that aren't specifically mentioned are not allowed in a particular class. So installing certain things that may not actually make your car any faster may bump you up to a much higher class where you won't be competitive. In my particular case my bracing (Paco Strong Arms, FM Frame Rails + Butterfly Brace) aren't allowed in anything but the highest classes.
It would nice to be able to be competitive in a class, but I don't really want to limit what I can do to my car, so I'll be stuck in some uncompetitive classes.
Conclusion
A Miata isn't a fun car if it just sits around collecting dust in a garage. During my first six months of ownership I spent pretty much every weekend doing something fun with my Miata. In previous posts I covered how I spent time working on performance and cosmetic mods to make my car look and drive better. In this post I covered all of the car shows and performance driving events I experienced with my Miata.
There is just so much fun you can have with a Miata. It really feels like you can do pretty much anything with a Miata. I look forward to the experiences I'll have with my Miata going forward.