My second year of NB Miata ownership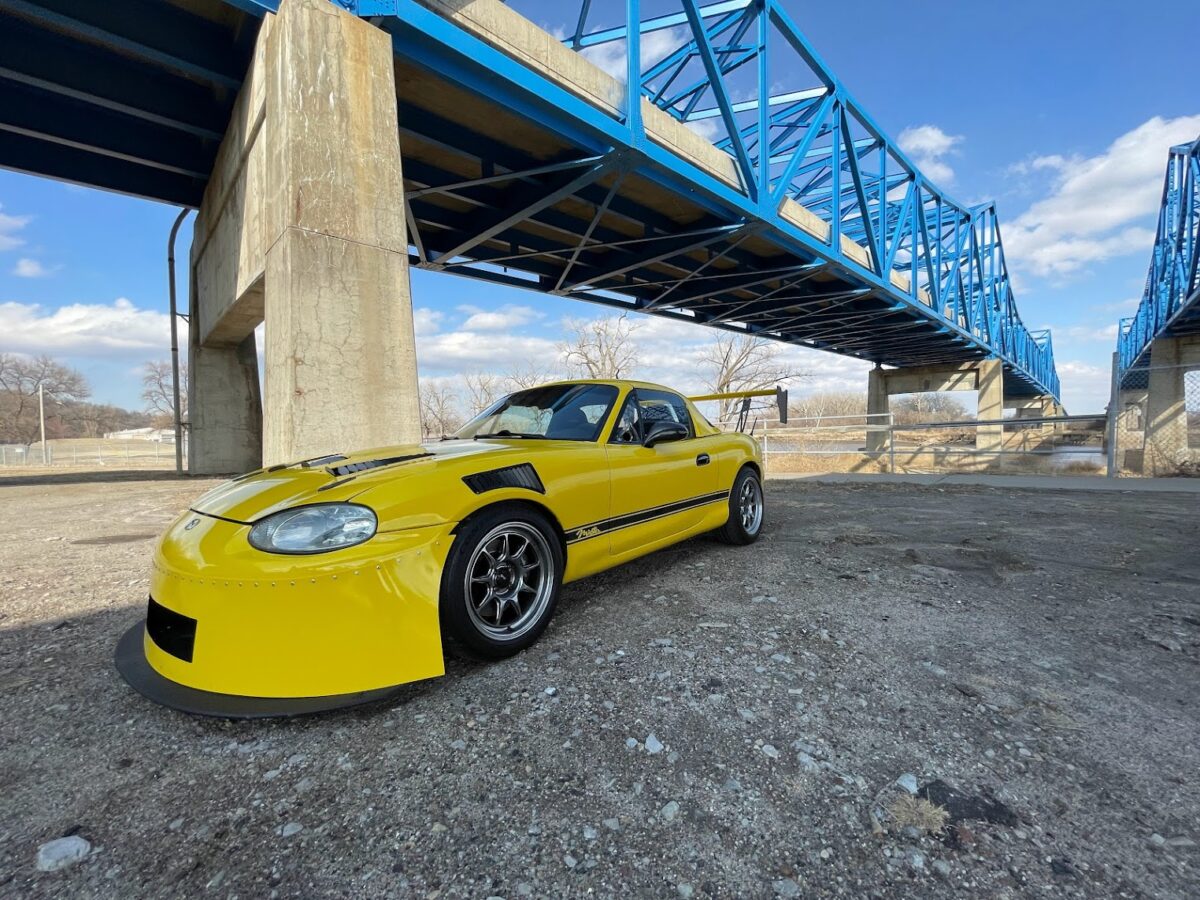 Last year I wrote a post briefly covering my first year of owning my NB Miata. I figured I'd post another one this year, covering NB Miata year two. I purchased it in late March 2021, and my last post ends right before March 2022, so that's where this post starts. A single photo is included for each month of ownership, along with a short description.
March 2022: Back on track: Raceway Park of the Midlands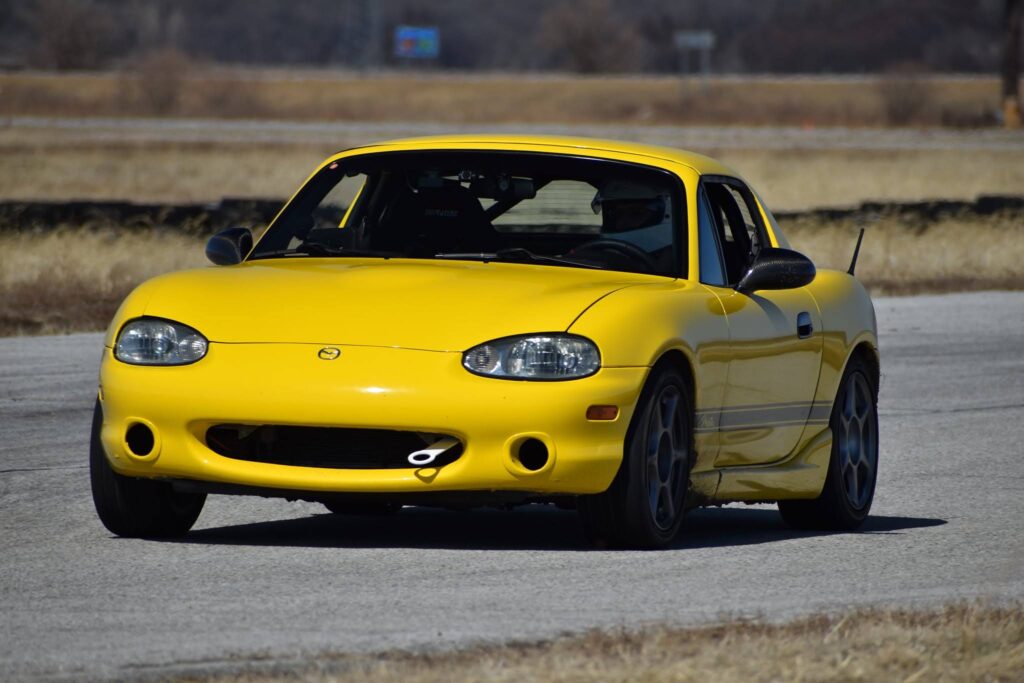 What's the best thing you can do with your Miata exactly one year after purchasing it? A track day of course. That's what I did with my car, getting it back out on track to start this year's driving season on March 19, 2022.
Raceway Park of the Midlands is the nearest track to me so I drove there quite a bit this year, eight track days in total. While I did continue to work on and modify my car to make it go faster, most of the improvements in my lap times have come from learning how to be a better driver.
The best lap times of each day at Raceway Park of the Midlands this year:
March 19: 2:02.99 (Yokohama V701, 195 on a 15×7)
May 14: 2:02.05 (Hankook RS4, 225 on a 15×9, sway bars)
June 18: 1:56.24
July 25: 1:55.14 (power steering removed)
August 14: 1:53.088 (driving instructor helping me improve)
September 17: 1:52.938 (Bridgestone RE-71RS, 205 on a 15×8)
October 15: 1:52.798
October 29: 1:51.698
That's a 11.29 second improvement over the course of a little over seven months. I look forward to seeing how I can improve over the next year.
April 2022: Motorsports Park Hastings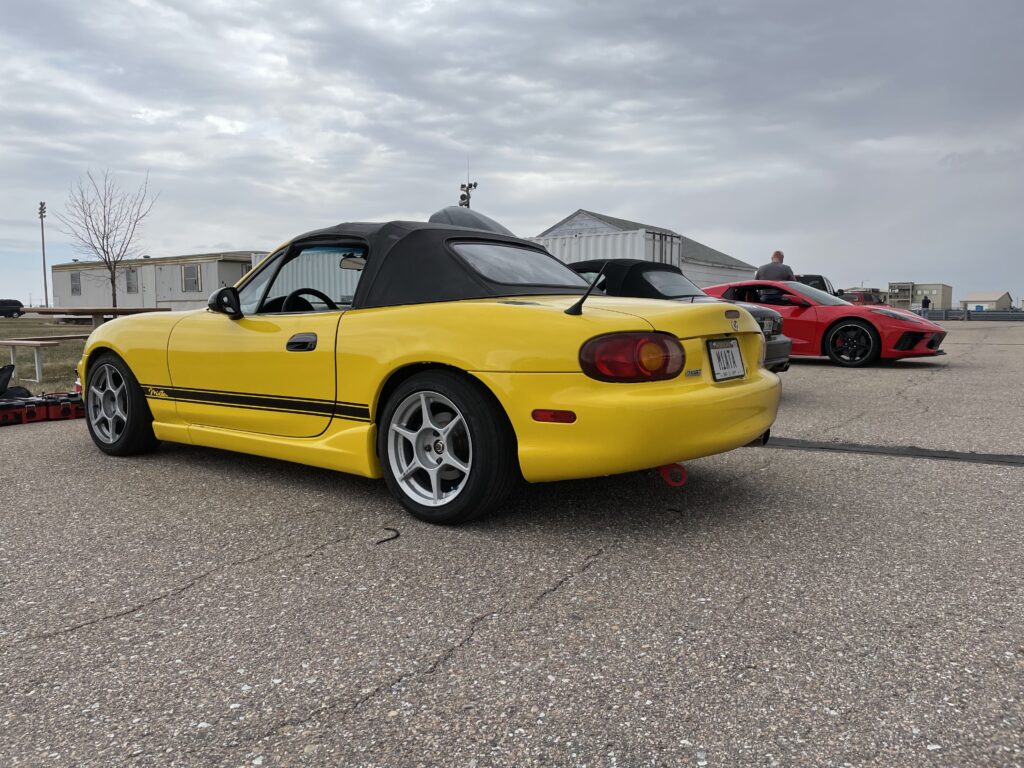 Motorsports Park Hastings is the second closest track to me, so I figured I'd visit it at least once this year.  I attended a single track day here on April 1, my setup was pretty much identical to my my March 19 setup at Raceway Park of the Midlands.
The track had repaved the surface with fresh asphalt during the winter off season. It's a very different experience from Raceway Park of the Midlands. Hastings has a perfectly smooth new surface, a nice paved paddock, an indoor clubhouse, and nice restrooms. In contrast RPM has a very rough bumpy surface with lots of patches, and not much for a paddock.
I plan to visit Hastings a lot more in 2023 to try to get more up to speed there. My main reasoning for visiting RPM more is that it's quite a bit cheaper to drive at, and it's an hour closer to me.
May 2022: New soft top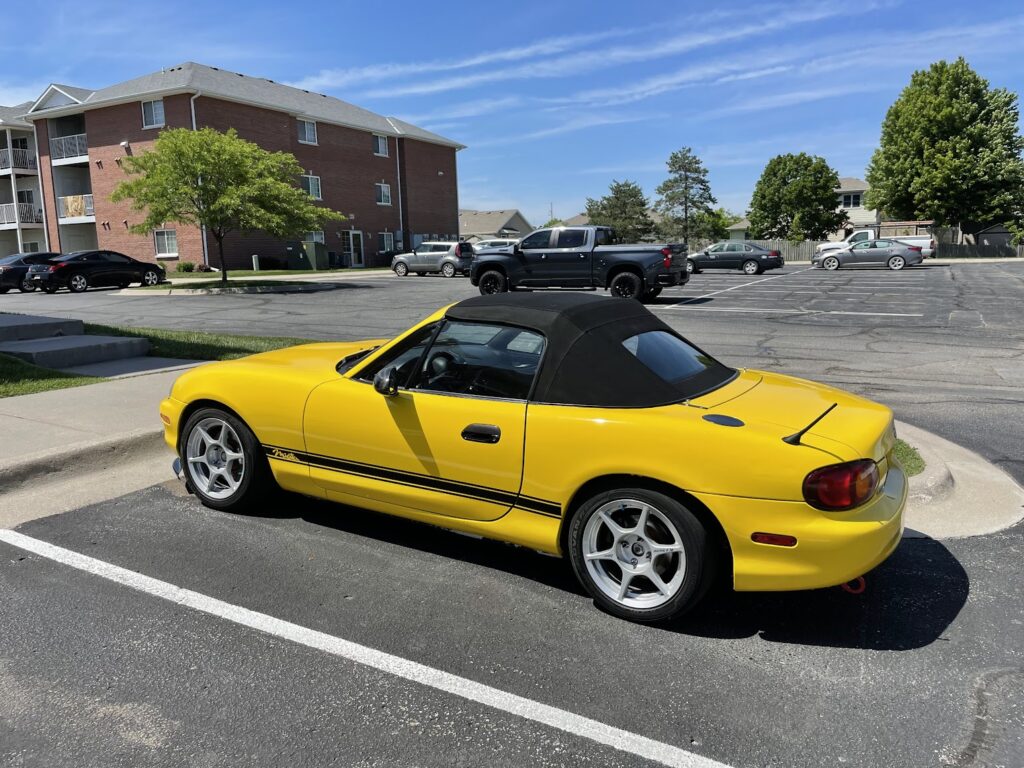 When I purchased my NB Miata the soft top wasn't in the best shape. There was a big patch in the vinyl, and over time it developed more holes and cracks that needed patching. Prior to getting my hands on a hardtop in 2021 I placed an order for a new Robbins soft top (canvas with a zippered glass window). After several months of waiting I got the top in the middle of winter when it was too cold out to install.
At the end of May during the long Memorial Day weekend I had a nice long warm weekend where I could finally get my new soft top installed. I had purchased another soft top frame from a junkyard so that I could install the new top onto a spare frame, and then just swap the new frame with the new top into the car in one step.
Installation of the new top went pretty smoothly. The key was to let the car sit outside in the sun for a few hours so that the rain rail and the back of the soft top can stretch and be bolted in place (I couldn't fully install the top inside my garage). I was able to latch the top by adjusting the top latches to be as loose as they could be, and then just slowly tightening them over time until it was at a good tension.
I'm a big fan of my new top, especially the canvas material. It latches and unlatches so much easier in the cold, it looks so much better and more modern, and it's so much easier to maintain and keep clean. I don't really ever use the zipper though.
June 2022: Tire trailer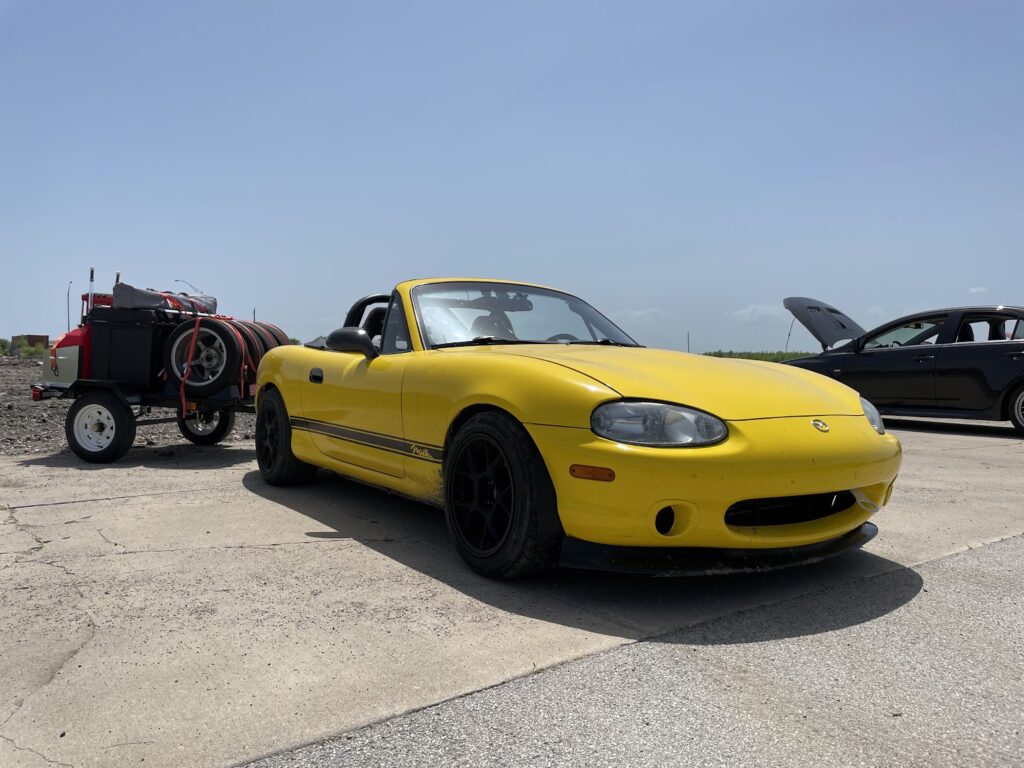 One of the major drawbacks of the Miata is the lack of space inside. There is no way to carry everything I'd like to have for track days (a separate set of tires, tools, spare parts/fluids, a canopy, chairs, food/water).
My solution was to build a small tire trailer to tow behind the Miata to and from events. Over the course of this year I towed it over 1,000 miles without any issues, the Miata tows it surprisingly well, it weighs a little over 700 lbs fully loaded.
It's a small 40×48 Northern Tool trailer with an extra long plywood deck. In the front is space for four tires. In the middle is a big latching box, that I can store stuff inside and strap things to the top of. On the back are some Milwaukee packout tool boxes (ratchet strapped down) along with space for two 5 gallon fuel jugs.
I highly recommend building one. I can bring a canopy with me for shade on hot summer track days,  enough fuel for the day, and everything else I might need for the day.
July 2022: Measuring power on a dyno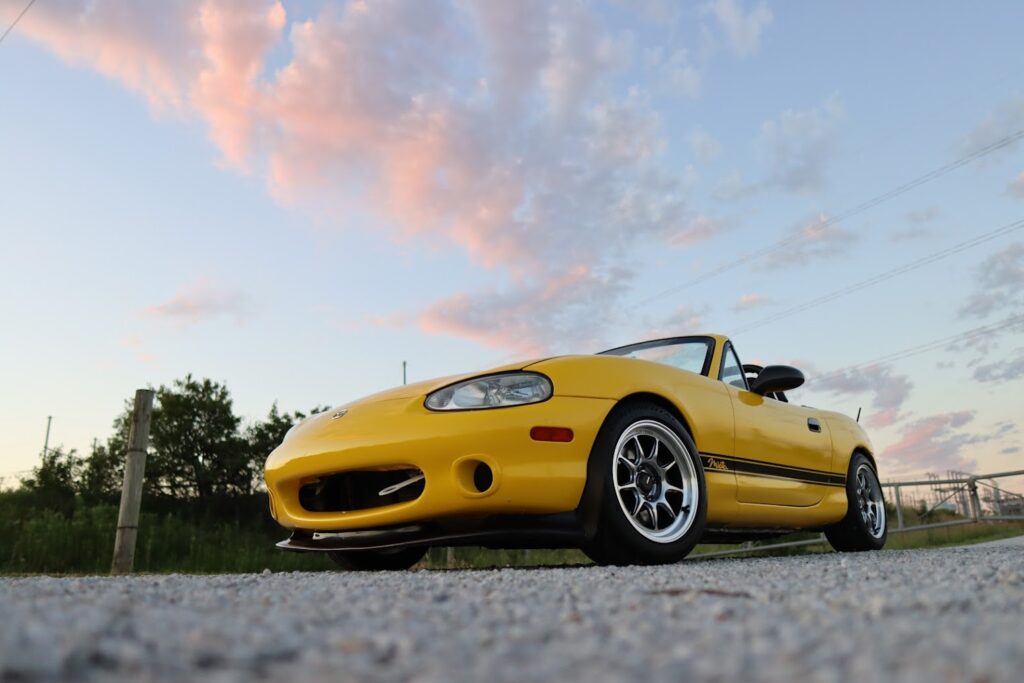 During my first year of ownership I did a couple of dyno pulls to see how much power I was making. At the time I had most of the same bolt ons I have now, including an intake, headers, and exhaust system. In August 2021 I was making 115 wheel-horsepower, and 106 lb-ft of torque, not too bad for an NB1 Miata, but nothing amazing.
A year later in July 2022 I was on the dyno again, and made 136 wheel-horsepower, and 119 lb-ft of torque. That's a solid gain in power over the previous year, mostly coming from the combination of the squaretop intake manifold, and the Megasquirt ECU running on E85. I still feel like there could be a few more horsepower I could get out of it with a professional tune, and maybe cam upgrades.
August 2022: Heartland Motorsports Park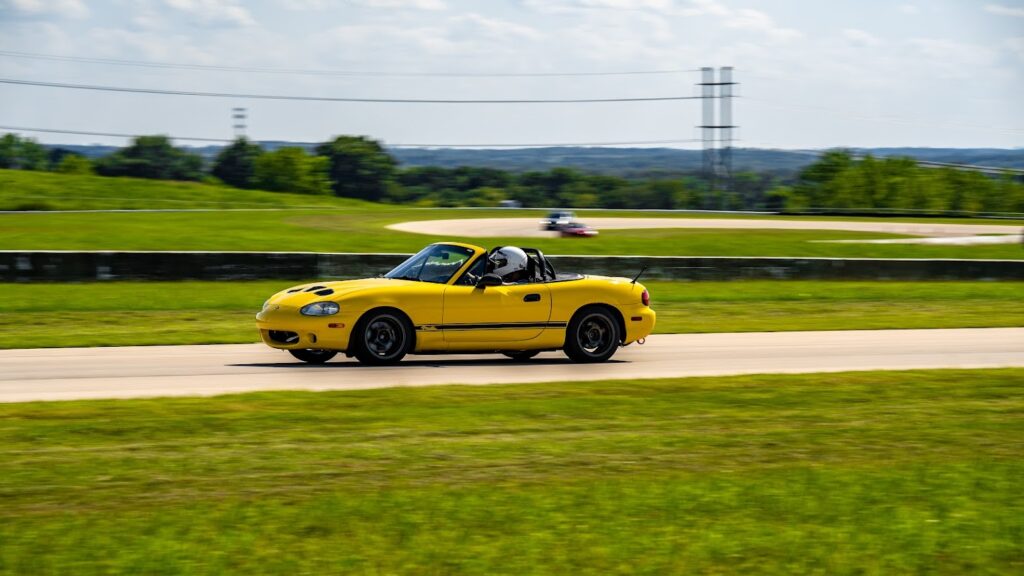 Heartland Motorsports Park in Topeka is the third closest track to where I live. I did one track day here this year in August. By this time in the year I had pretty much figured out this year's car setup, but Hankook RS4 tires were also starting to show their age in heat cycles.
This track may be my favorite one I've been to so far. A big part of what makes it fun is the changes in elevation, road surface banking, and just the amount of speed you can get up to in certain parts of the track. A lot of the day was spent learning the track, building up confidence, and waiting to get point-bys. I plan to come back in 2023, but do longer events with NASA Central Region or MiDIV SCCA instead of the shorter Track Night in America events.
September 2022: Approaching the end of driving season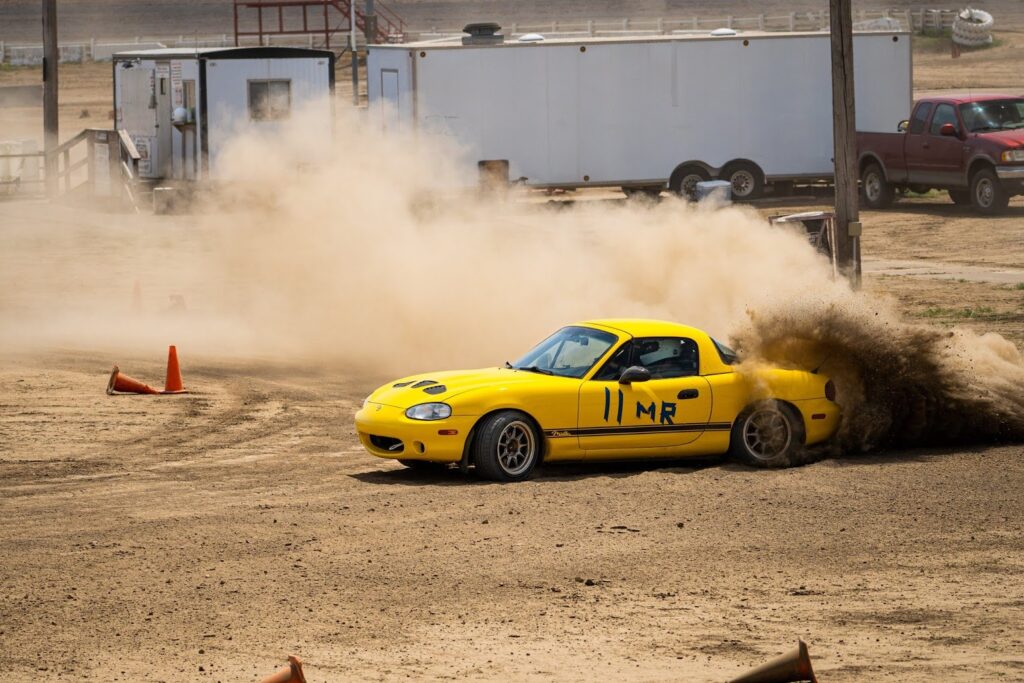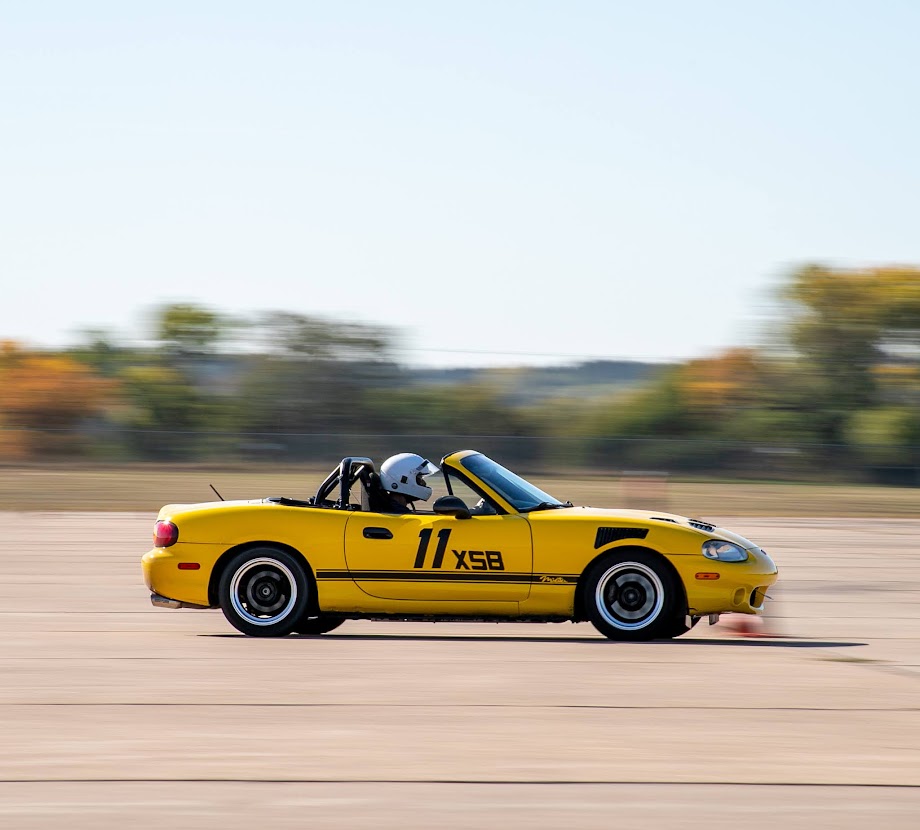 I didn't have any real interesting pictures for September, so instead here are two pictures, one from August, and one from October, in between those two months is September.
The first picture is me trying out SCCA Rallycross for the first time in August, at I80 Speedway in Nebraska. It was a lot of fun trying to go fast with very little traction. It was surprisingly easy to control the sliding around since the speeds are so much slower on the dirt compared to when you slide around on a road course. I'd like to do rallycross again, my car wasn't really setup for it, I lost my front lip during the event.
The second picture was from an SCCA Autocross event I attended in October. I attended every local autocross event that the Nebraska Region SCCA held this year. My region hosts their events at the same location that the SCCA Solo Nationals is held, so we get to have nice long courses. Over the course of the year I got quite a bit faster at autocross, going from being slower than 92% of other drivers at the beginning of the year, to being faster than around 50% of drivers at the end of the year. I still have a ways to go before I'm truly fast at autocross, but it's still fun regardless.
October 2022: Hitting a tire wall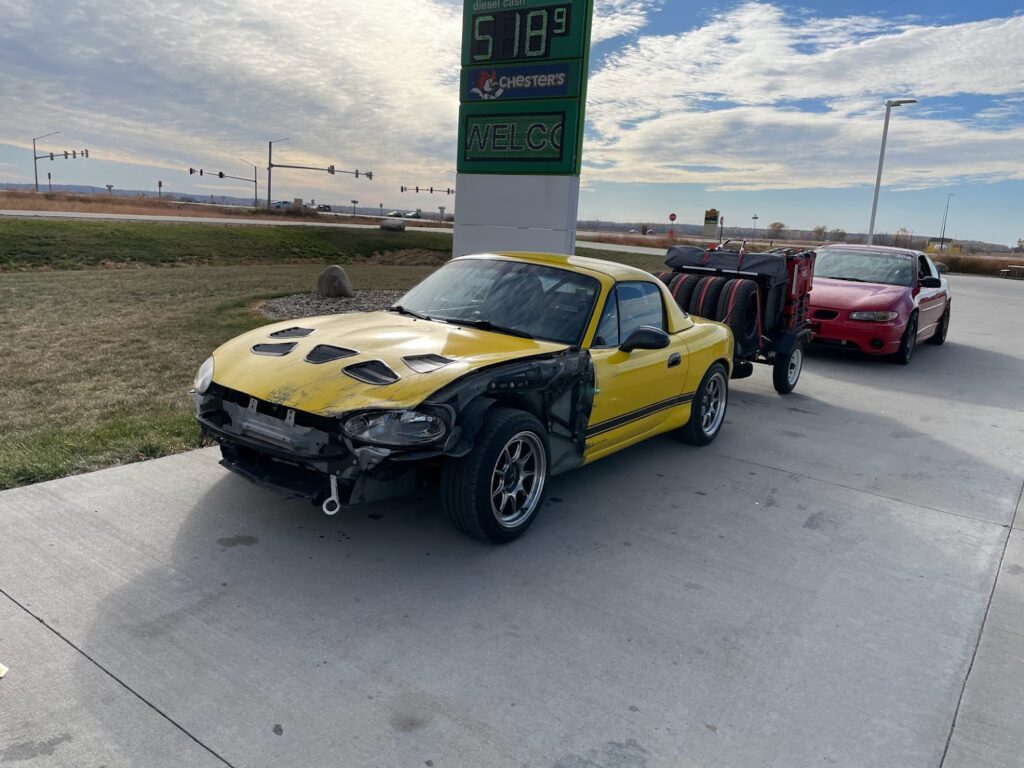 Over the course of this year I got significantly faster at Raceway Park of the Midlands. I went from getting passed all the time in the slower run group, to being comfortable in the faster run group. One part of getting this fast was finding the limit of each corner, and in many cases finding what's beyond the limit. I've spun out or gone off track at most of the corners over the course of the ten times I've driven here.
One of the great features of Raceway Park of the Midlands is that there isn't a whole lot to hit if you go off track. Other than scuffing up a wheel or two hitting a curb while spinning, I hadn't had any real damage to my car. Unfortunately during my last track day of the year on October 29th, I went off track and hit pretty much the only tire wall on track.
As I carried too much speed through turn 10, my back end started to come out from under me. I was able to correct the slide, but by that time I was going way too fast through turn 11 and understeered off track, right into the tire wall. I slowed down as much as I could in the grass, and hit the tire wall at about 60 mph, which surprisingly didn't actually damage the car a whole lot.
The tires did a really good job of slowing down the impact and protecting the car and driver/passenger. I had bent my hood a little bit, dented in my front bumper, crushed my fender, broke my left headlight, and got tire marks all over the front left side of my car. Luckily I was able to drive the car home, there was no serious damage.
November 2022: Getting ready for winter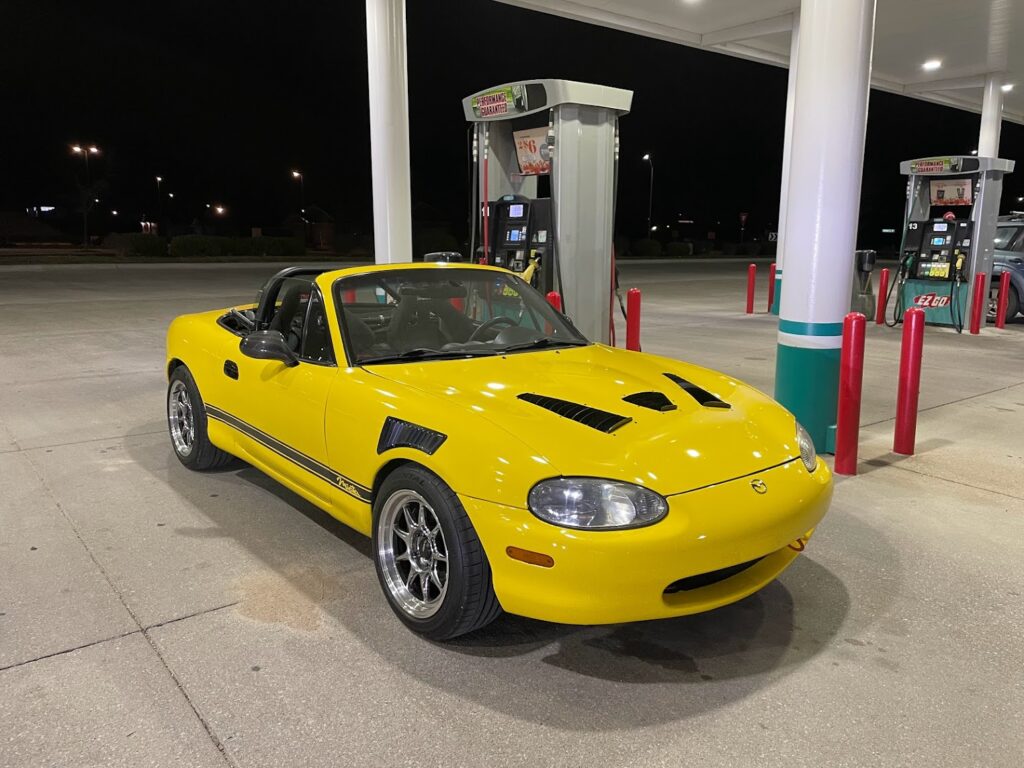 Within the week following the crash I had put a new fender on, bent the front bumper back into shape, and was able to attend an autocross event. By the end of November I had put on a new hood, and a new bumper.
The only way you'd be able to tell the car was in a crash a month prior would be from the mismatched fender and hood paint underneath the yellow wrap. Vinyl wrap can be annoying at times, but being able to rewrap an entire car for the same amount it costs to paint one body part is a pretty big advantage to wrap.
It was nice being able to put the car away for winter in a fully repaired condition cosmetically. I ended up putting my Miata away for the winter during the Thanksgiving weekend, just like I did the year before.
December 2022: Suspension work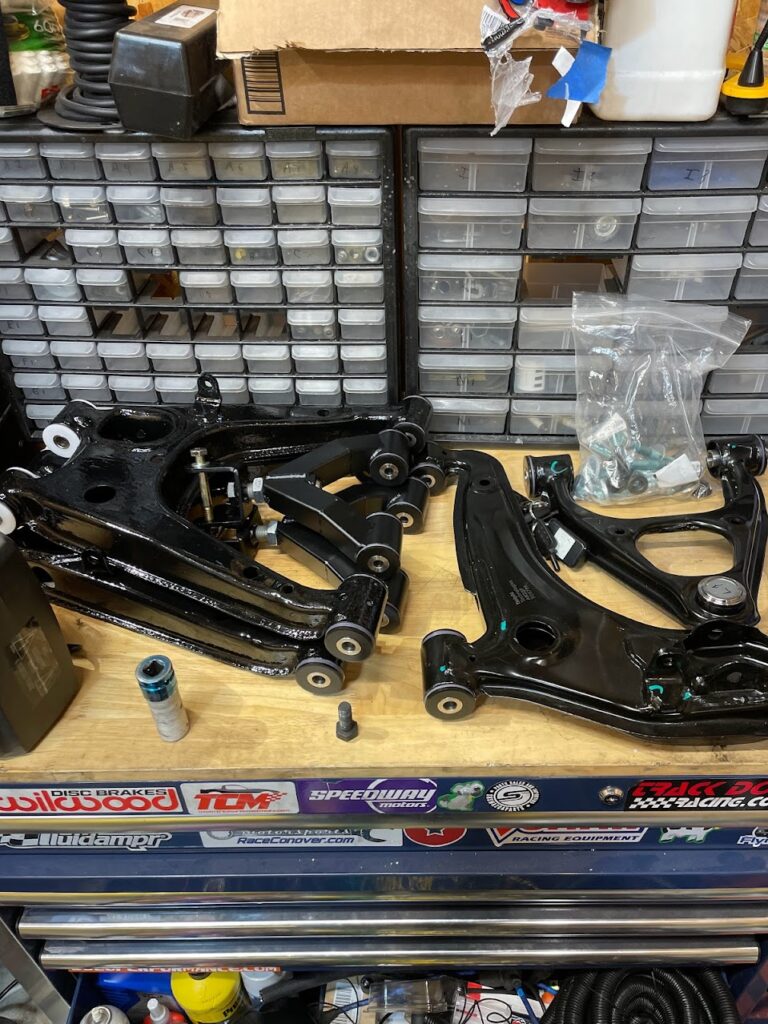 Just like the year prior I also spent December working on some suspension upgrades. In 2021 I installed some fresh IL Motorsports rubber bushings in all of the control arms. This year I got a set of new replacement control arms, and installed A1 Ground Control Nylatron bushings into them. Additionally for the rear upper control arms I installed the adjustable Paco Motorsports arms.
I wanted to install Supermiata 863 bronze polyurethane bushings, but they were out of stock at the time. In the end I do think the nylatron bushings may be the better option. They are very similar to delrin, a solid type of plastic, but apparently do a better job at self lubricating. They are very low friction, and don't have any binding, even without any special lubrication or maintenance.
Dealing with lubricating my polyurethane sway bar bushings have kind of turned me off of polyurethane for bushings that need to support rotation without binding. Now that I have driven on these bushings some more in 2023 (still not on track yet), they definitely work well, but do transmit quite a bit more NVH into the car.
January 2023: Engine out work II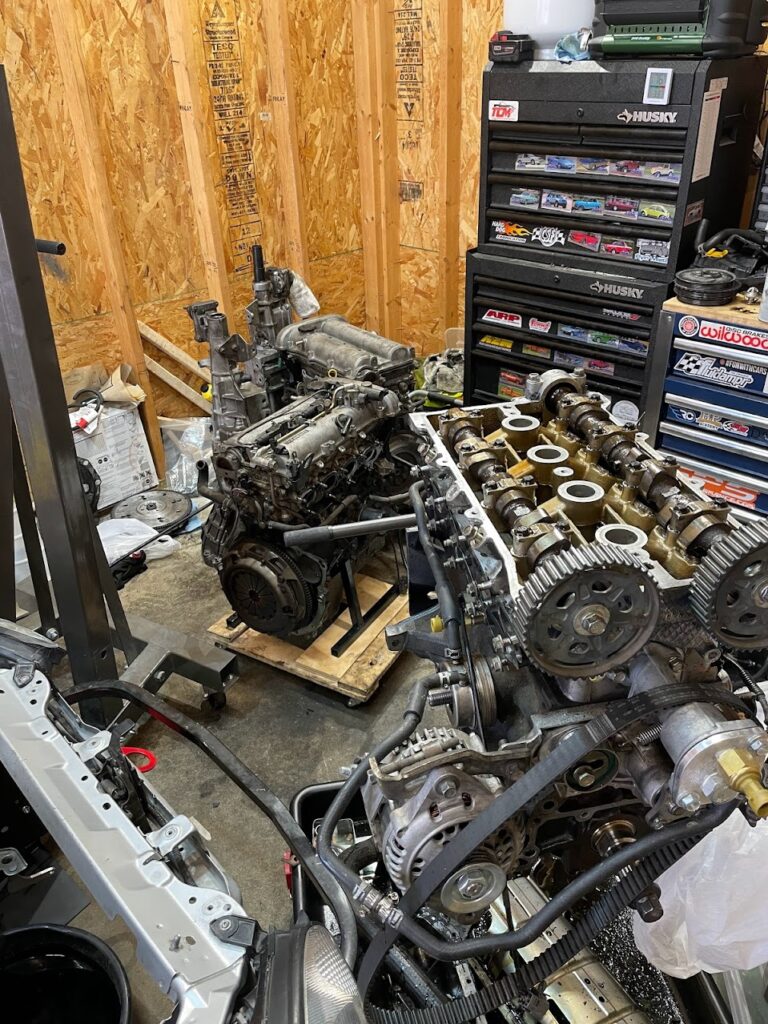 Just like the year prior, I also did some engine out work in January. My rear main seal started to leak not too long after replacement, and continued to get worse throughout the year, so it needed replaced. I also ended up doing quite a few other things while I was in there.
All new seals: front main seal, rear main seal, cam seals, oil pan half moon seals.
Boundary Engineering oil pump (for over-rev protection, and potential future boost).
Mazda Motorsports oil pan baffle plate
Removed the oil filter sandwich plate with sensors. Moved pressure sensor to OEM pressure sensor location. Moved temp sensor to bung in oil pan.
Deleted the air conditioning (I had been contemplating it, and figured I might as well for the weight savings).
New OEM valve stem seals, Volvo valve springs, and set proper valve lash by replacing some shims.
Did the Exhintake cam swap (exhaust cam in place of intake cam)
I also got my hands on a good healthy used BP6D VVT motor and 6 speed transmission in January to go along with the low compression BP4W I got earlier in the year.
February 2023: Nine Lives Racing aero kit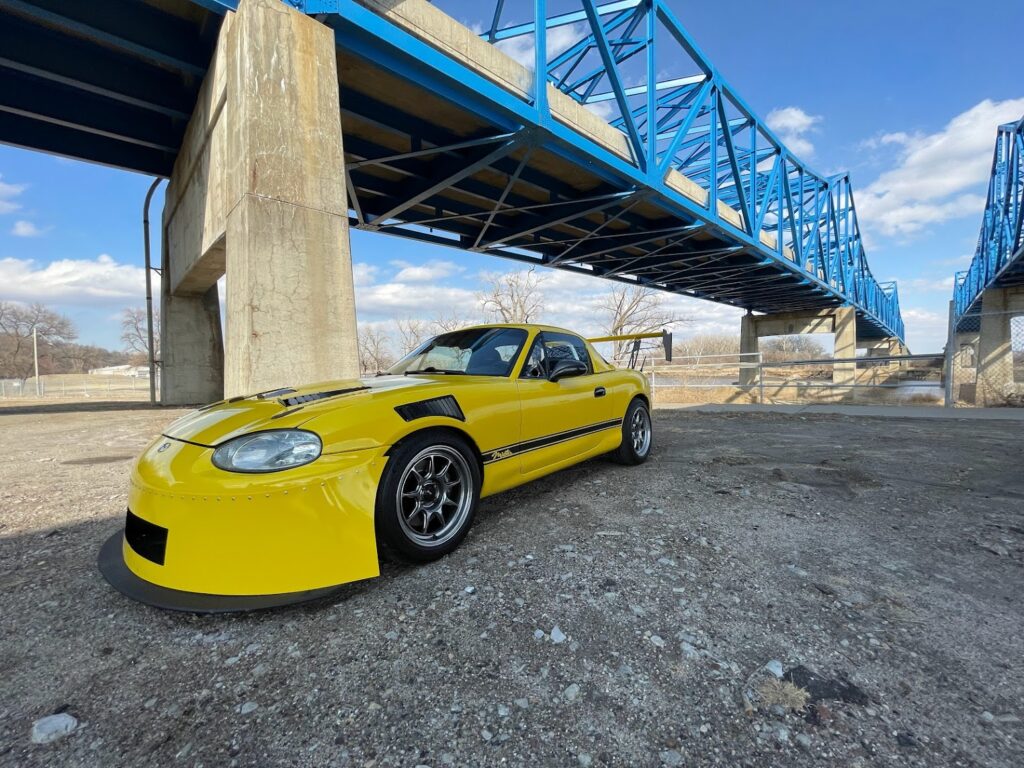 I've had my eyes on the Nine Lives Racing aero kits that are available for the NA/NB Miata, and I ended up purchasing their medium downforce kit during their 2022 Black Friday sale. It took a few months to get all of the parts, and then some time to install them, by early February the car was ready to go. The XS-B autocross class I run will also allow off the shelf aero packages for cars, which means I'll be able to run it all the time.
I haven't had a chance to get the car back on track this year, but I really look forward to seeing the lap time improvement aero will allow me to obtain. Just from installing the kit and driving it around on the street I'm already impressed. The wing in particular is very high quality. It's a single piece of aluminum, mounted to the sides of the trunk. It's solid enough to stand on.
The entire package also completely transforms the look of the car, in its current form my Miata looks very much like it belongs on track.
Before installing the aero kit my car always felt a little unstable the faster I drove, due to the amount of lift the car naturally has at speed. With the aero kit the faster I go the more stable and planted my Miata feels. It also doesn't seem to have decreased acceleration time, it may even accelerate faster than before at higher speeds.
Conclusion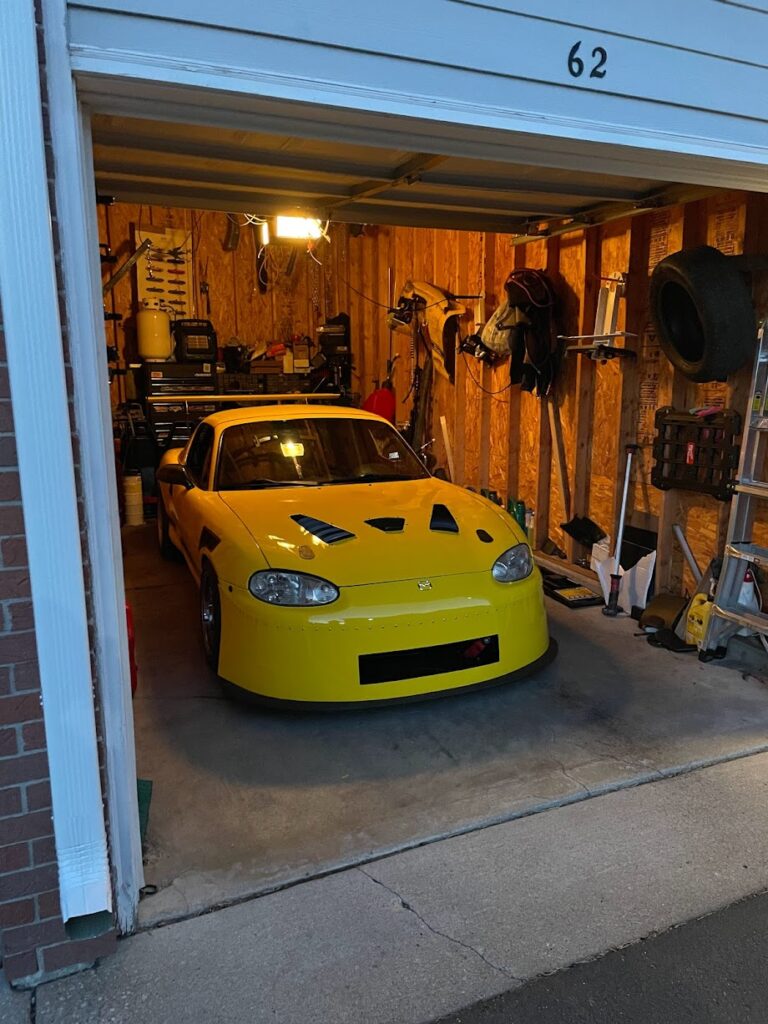 It has now been two years since I purchased my NB Miata. Over the past year I spent a lot of time driving my Miata to the limit on road courses, autocross, and on the dirt. It's amazing to look back at all I've done to my Miata, and all of the experiences I've had with it.
There is a huge difference in my Miata and me as a driver between March of 2021 and March of 2023. I look forward to the next year with the car, and the years beyond that. Keep an eye out for new posts about my NB Miata project.