I'm not taking orders at the moment. I haven't decided if or when I'll start taking more orders.
If you're in the US I recommend just ordering any of the Modbo 5.0 chips that are available through Amazon Prime. You'll get them quickly from the United States and Amazon will allow you to easily return them if you get a defective one.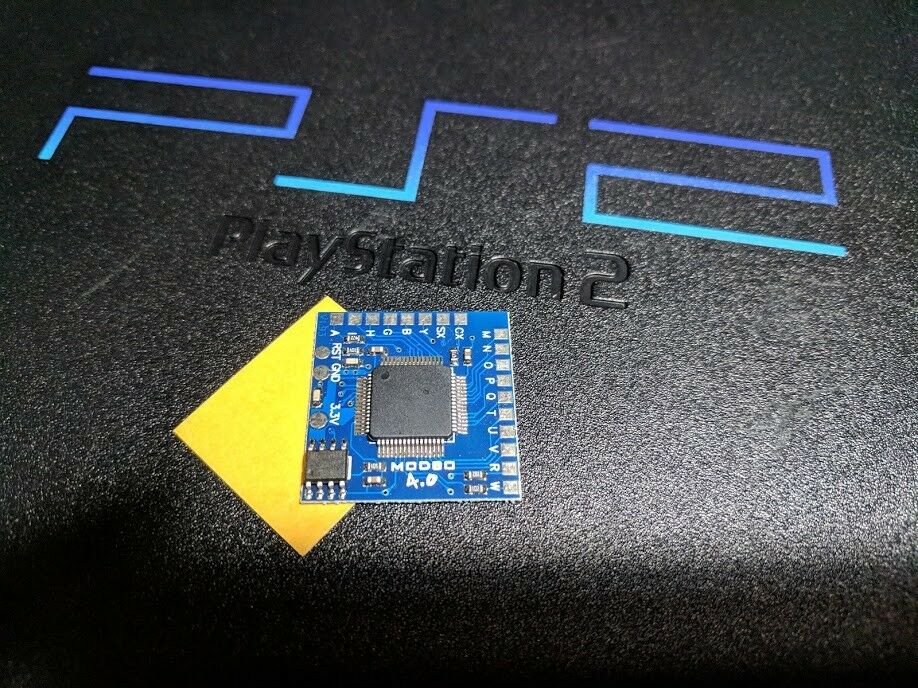 Note: These are currently out of stock. Due to the low demand I'm only supplying these when enough have been back ordered to make purchasing a batch worthwhile (10+ boards). Because of that any of these that are purchased are pre-orders for the next batch and won't be shipped immediately. The current number of pre-ordered boards is 0. If you need one quickly I'd recommend just going with the Modbo 5.0 instead.
If you don't see the add to cart button then you may need to disable your ad blocker for my website. I don't have any ads on my website. The Shopify integration seems to be blocked by some ad blockers.
This is a new Modbo 4.0 modchip or the PlayStation 2.
This item comes with the Modbo 4.0 modchip itself, as well as a double sided adhesive. You'll need your own wire.
The price I charge is higher than a lot of the listings you'll find on websites like eBay. This is because I ship these chips directly from the United States using a fast shipping method. If you purchase a chip from me you don't have to wait a month for it to arrive from China. I can also answer any of your questions in English.
Features
Modbo 4.0 modchips aren't the easiest chips to install (when compared to modchips for other consoles like the MM3), but have a lot of functionality built into them.
Compatible with all PS2 consoles from V5 through V18.
Runs Matrix Infinity firmware.
Supports booting from memory card, disc drive, and hard drive (booting from USB is not supported).
Can play DVD's from any region.
Can play PS2 CD and DVD discs, genuine games, imports, as well as backups.
Can play PS1 CD discs, genuine games, imports, as well as backups (anti modchip games only work with V9-V16 consoles).
Support for multi-disc games, and DVD-9 games.
Installation only requires 18-20 wires to be soldered.
Compatibility
Like mentioned in the features section the Modbo 4.0 modchips are officially compatible with PS2 models from V5 through V18. I have personally found that they work with V1 through V18 systems, meaning they'll work with pretty much every PS2 other than the very first few models which were sold only in Japan (these models may also be compatible, but I haven't gotten around to testing them yet).
One thing to note is that if you'd like to play anti modchip PS1 games (like Spryo 3) without needing to patch the backup image, you'll need a V9 to V16 model system.
Installation
I put together a comprehensive guide covering how to install Modbo modchips into every board revision of the PlayStation 2. The guide covers how to identify which board revision you have, and how to solder the chip into your board.
The guide is available on my website. It's fairly long so I'm not including it here.
Payments
I accept payments through PayPal, which lets you pay with your PayPal balance, bank account, or credit card.
Payments are also accepted through Shopify payments which is done through Stripe. Various payment methods are available through Shopify payments including credit cards and Google/Apple Pay.
Shipping
I'll ship your order within one business day (Monday-Friday) of payment. Shipping is done through USPS. There are several USPS shipping options available on checkout.
Support & Returns
If you have any questions feel free to contact me. I'll help you troubleshoot any problems you may have.
If you happen to receive a defective chip and you can't get it working even after I help you then I can either send you a replacement chip, or send you a refund.