I'm not taking orders at the moment. I haven't decided if or when I'll start taking more orders.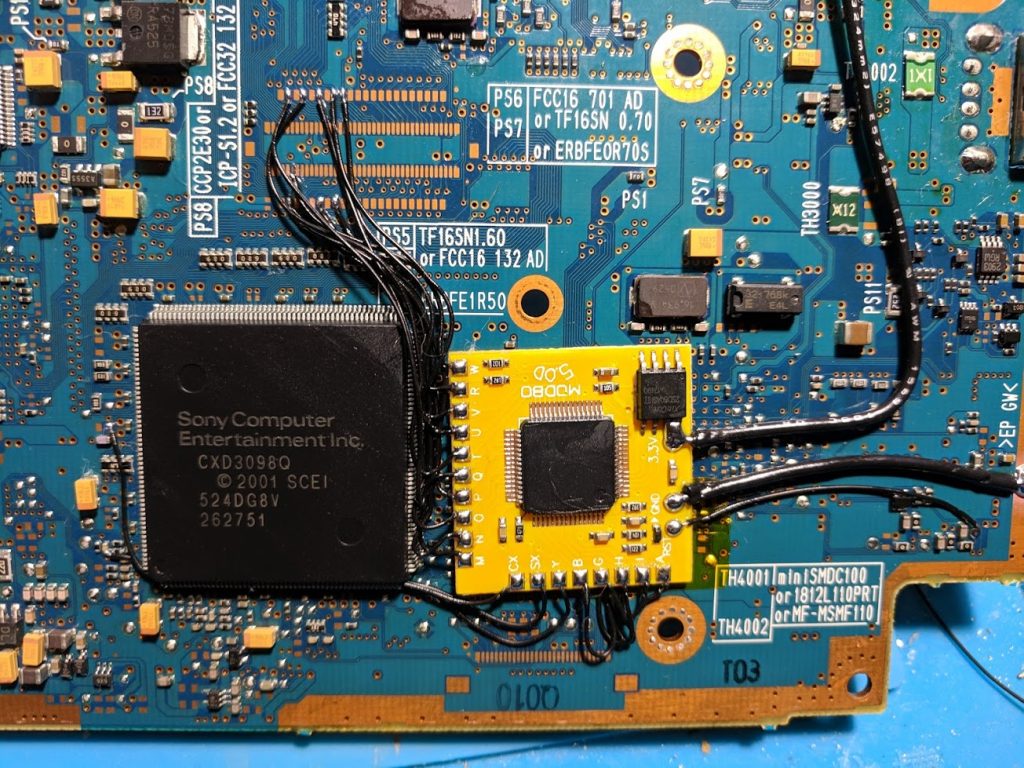 If you don't see the add to cart button then you may need to disable your ad blocker for my website. I don't have any ads on my website. The Shopify integration seems to be blocked by some ad blockers.
This is a send in modchip installation service for the PlayStation 2. You send me your console, and then I install a modchip into it and send it back to you.
Service steps
Here's how the installation service works:
You place an order and ship your console (just the console, no need to ship any cables or controllers) to an address I provide you in an email (you pay for the shipping to me).
Once I receive the console I'll test it, and then install and test the modchip within 10 business days (Monday-Friday).
Once I have installed the chip I'll ship the console back to you through USPS Priority Mail within one business day (Monday-Friday).
Please only send working consoles. If you send a console that won't read games I'll return it to you unmodified.
Service options
I only offer Modbo modchip installations. They are currently the most readily available modchips.
If you happen to have another modchip and want it to be installed into your system instead of the Modbo you can include it in the box when shipping your console (along with giving me a heads up). I'll install your modchip instead of the Modbo. This may require additional installation time.
Modchip features
Modchips have a great set of features allowing the chip to be easy to install, compatible with pretty much all PS2 consoles, and compatible with all games.
Compatible with all PS2 consoles.
Play game backups from any region.
Play genuine games from any region.
Works with all games, even anti-modchip  PS1 games like Spryo 3 (only with SCPH-50001 and newer).
Compatibility
Modbo modchips should work with every model of PlayStation 2. I have personally installed them in models as early as the SCPH-15000 and as late as the SCPH-90001.
Note: I generally don't recommend the SCPH-50001, or SCPH-70012 as they have a hardware flaw that causes them to more easily burn up lasers. I do install fixes but I personally think it's better to just use a model that doesn't have the issue to begin with.
Payments
I accept payments through PayPal, which lets you pay with your PayPal balance, bank account, or credit card.
Payments are also accepted through Shopify payments which is done through Stripe. Various payment methods are available through Shopify payments including credit cards and Google/Apple Pay.
Shipping
Once I receive your console I'll install the chip within 7 business days (Monday-Friday), and then ship it back to you within one business day (Monday-Friday) of completion.
Support & Returns
If you have any questions feel free to contact me. I'll help you troubleshoot any problems you may have.
If you happen to receive a defective installation and you can't get it working even after I help you, then I can send you a refund.