I'm not taking orders at the moment. I haven't decided if or when I'll start taking more orders.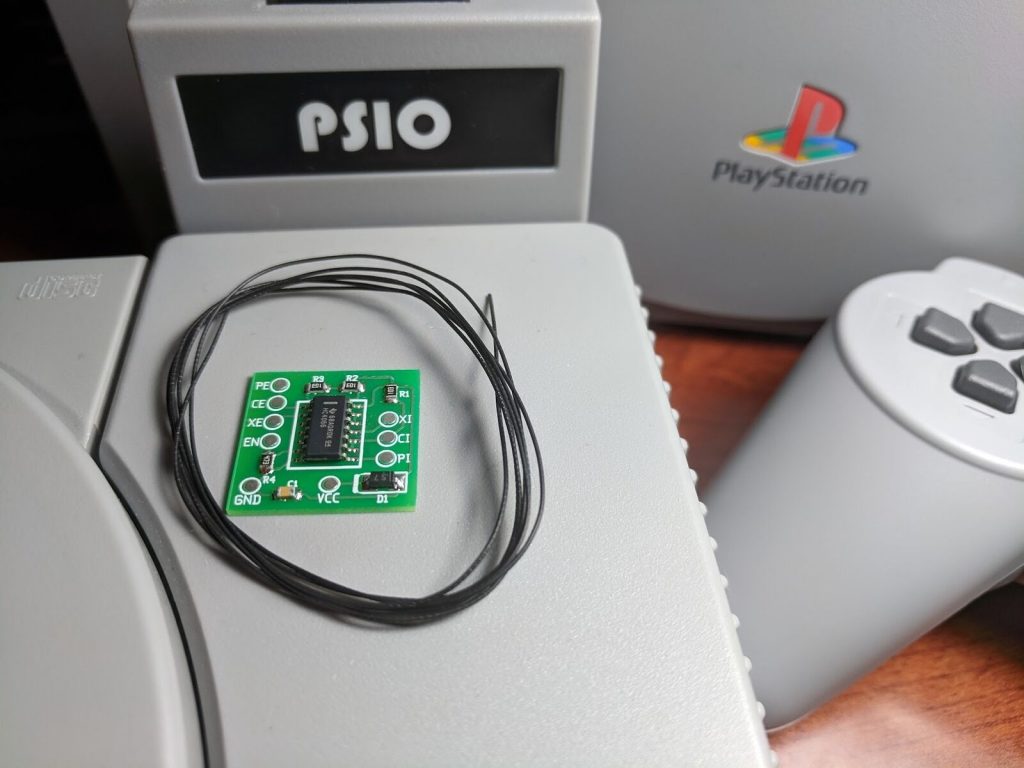 Note: These are currently out of stock. Due to the low demand I'm only making these when enough have been back ordered to make a batch worthwhile (9+ boards). Because of that any of these that are purchased are pre-orders for the next batch and won't be shipped immediately. The current number of pre-ordered boards is 0. 
If you don't see the add to cart button then you may need to disable your ad blocker for my website. I don't have any ads on my website. The Shopify integration seems to be blocked by some ad blockers.
This is a new PSIO switch board for the PlayStation 1.
Note that this product isn't exactly the same as the switch boards sold by Cybdyn Systems. I designed this board based on the open source schematic and board layout of their switch board. So it isn't identical, but it is electrically and functionally identical.
Each board is tested before being shipped.
Features
The PSIO switch board is a pretty simple device. It simply switches several signals between the disc drive and the PSIO cartridge. This allows you to use the console normally when the cartridge isn't inserted, or boot games from the PSIO when it is inserted.
A PSIO switch board needs to be installed into every system you use a PSIO cartridge with.
Compatibility
While the PSIO switch board can theoretically be installed and work with any PlayStation 1 model it is really only supported by models that contain the parallel expansion port on the back.
The following board revisions are officially supported and documented:
PU-7
PU-8
PU-18
PU-20
PU-22
So anything from a SCPH-1001 through a SCPH-7501 will work. The board can be installed in any region of console as well.
Installation
Cybdyn Systems provides detailed installation instructions for all officially supported board revisions.
The installation process isn't super difficult, but I'd consider it to be harder than installing a PS1 modchip. This is primarily because the installation process requires cutting some traces which can cause damage if you aren't careful. It can also be tricky to properly solder a wire to the via holes in the board.
To test the board after installation you should check the VCC and GND lines with a multimeter to make sure they aren't connected. Then you can try booting up the console with a game in the disc drive and the PSIO cartridge disconnected (it should boot the game normally). If that all works you can plug in your PSIO cartridge and it should work.
Options
There is only one option available at the moment. This option includes:
A PSIO switch board
~3 ft of 30 AWG wire
Payments
I accept payments through PayPal, which lets you pay with your PayPal balance, bank account, or credit card.
Payments are also accepted through Shopify payments which is done through Stripe. Various payment methods are available through Shopify payments including credit cards and Google/Apple Pay.
Shipping
I'll ship your order within one business day (Monday-Friday) of payment. Shipping is done through USPS. There are several USPS shipping options available on checkout.
Note that certain types of orders may take longer. For example, large quantities of boards.
Support & Returns
If you have any questions feel free to contact me. I'll help you troubleshoot any problems you may have.
If you happen to receive a defective board and you can't get it working even after I help you then I can either send you a replacement board, or send you a refund.